Cosmetic Acupuncture - What is it?
Cosmetic Acupuncture is a natural, non-invasive, non-surgical way to lift and sculpt your face using techniques that have been used for hundreds of years with much success.
As we mature in age, the most noticeable changes we see affect our skin, collagen, muscles, and the fat around our face, which can make us look much older than we really are. This is a natural part of aging; however, stress and trauma also have a substantial effect on how quickly aging can occur, especially in the face.
When we get older, circulation diminishes, digestion diminishes, and our hormones diminish. Of course, stress and pain also add to aging in the face. Facial expressions, like grief and anxiety, or other habitual patterns of expression like smiling also causes age lines in our face.
Facial expression is dependent on the quality of facial tissue.
As we age:
Facial tissue becomes rigid and inflexible.
Retaining ligaments loosen
Fat layer on the face is not equally distributed, it is pocketed and compartmentalized
Fat gives face volume; it descends as we age (think 'jowls' and double chins as you age)
If any of the above is what you wish to work on, Cosmetic Acupuncture can help!
Using specific needle placements in both the origin point and insertion points in the muscles of the face, cosmetic acupuncture helps to take the tension out of the muscle which decreases the lines in the face. It also helps to stimulate collagen production which will fill in fine lines and make the face look young.
Cosmetic acupuncture can stimulate or relax the muscles of the face depending on your needs and concerns. Rather than temporarily paralyzing muscles with neurotoxins, which over a long period of time can cause atrophy and sagging, cosmetic acupuncture allows you to age more gracefully, naturally.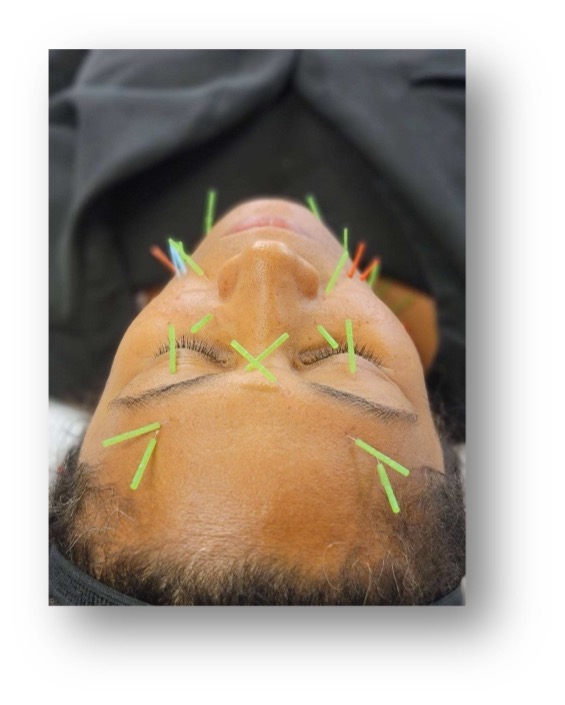 In these two pictures, you can see the different needle placements used to release the muscles of the face from the origin point to the insertion point of each muscle.
Less expensive than invasive surgery or fillers, Cosmetic Acupuncture should not be confused with a facial- it does so much more!
Besides the visible benefits of cosmetic acupuncture, like softening deeper wrinkles and eliminating small fine lines, improving muscle tone, and correcting and healing skin problems- there are multiple internal benefits too! Cosmetic acupuncture can improve your muscle integrity, helps thicken the thinning/atrophied muscle tissue, and improves your physical, mental, and emotional well-being.
Increases circulation reduces inflammation
Cosmetic Acupuncture can be good for more than just your face! Here's some of the ways cosmetic acupuncture can benefit your whole body:
Skin
Stimulates collagen and elastin
Carries nutrients to cells
Reduces Dark spots
Increases blood flow to skin
Muscles
Restoration of symmetry
Releases muscle tension
Enhances muscle tone
Reduces wrinkles
Overall Health
Deep relaxation
Regulates hormones
Improves digestion
Enhances immunity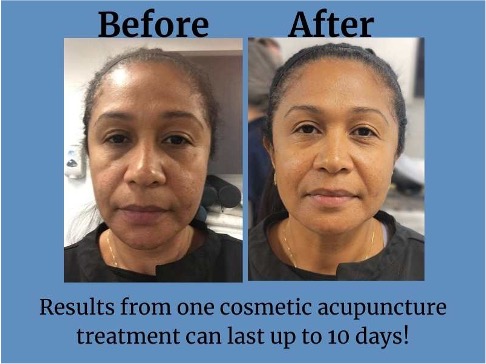 Now that you know how facial acupuncture works, let's talk about the benefits of the modalities used during your treatment.
At Stratford Acupuncture, you will receive multiple modalities to achieve your desired outcome. Each Signature Cosmetic Acupuncture treatment you will receive facial cupping, gua sha treatment, microcurrent therapy, facial acupuncture, and you will finish your session with Low Level LED Light Therapy treatment. You can also expect to have better collagen stimulation, a brightened skin tone, reduced jaw tension, and a softer appearance overall on top of health benefits like reduced anxiety and tension.
Facial Cupping
Smooths fine lines, relaxes tight facial muscles
Relaxes tight fascial tissue
Move out stagnant lymph, fluids and toxins
Face will appear tighter and toned
Movement of inflammation as in Rosacea
Strengthens vascular integrity of the face
Improved function in Lymphatic system of the face/neck
Gua Sha
Assists with lymphatic drainage
Softens wrinkles and fine lines
Reduces puffiness and inflammation
Reduces sinus pressure
Contours & sculpts jawline and cheekbones.
Microcurrent is a low-level current that mimics the body's natural ionic flow and has been clinically tested to address a variety of skin concerns safely and effectively. Because microcurrent works virtually without sensation, the treatment is soothing, and most patients feel nothing at all.
Microcurrent therapy
Stimulates the recovery of damaged tissue
Aids in lymphatic drainage
Enhances product penetration
Improves muscle tone and contour in the face and neck
Reduces fine lines and wrinkles
Firms and tightens skin
Temporarily improves local circulation
How long will my natural facelift last?
Our signature cosmetic treatment can last days or more, depending on your age, skin health and overall wellness. We have found the best results for long-term benefits is a series of 10-12 treatments (once to twice a week) which can last for weeks or months! You can maintain these benefits for years with a signature cosmetic treatment every 4-6 weeks!
If you're ready to see how Stratford Acupuncture & Nutritional Wellness Center can assist you in looking and feeling better through Cosmetic Acupuncture, give us a call or book your consultation with Joe today!